Diligent, Persistent, and Always Professional
I highly recommend Jan Lowe to sell your home. Jan stuck with me, and was able to close on a very difficult property that I had been unable to sell for several years. She is diligent, persistent and always professional.

Laura Dzubin, November 2016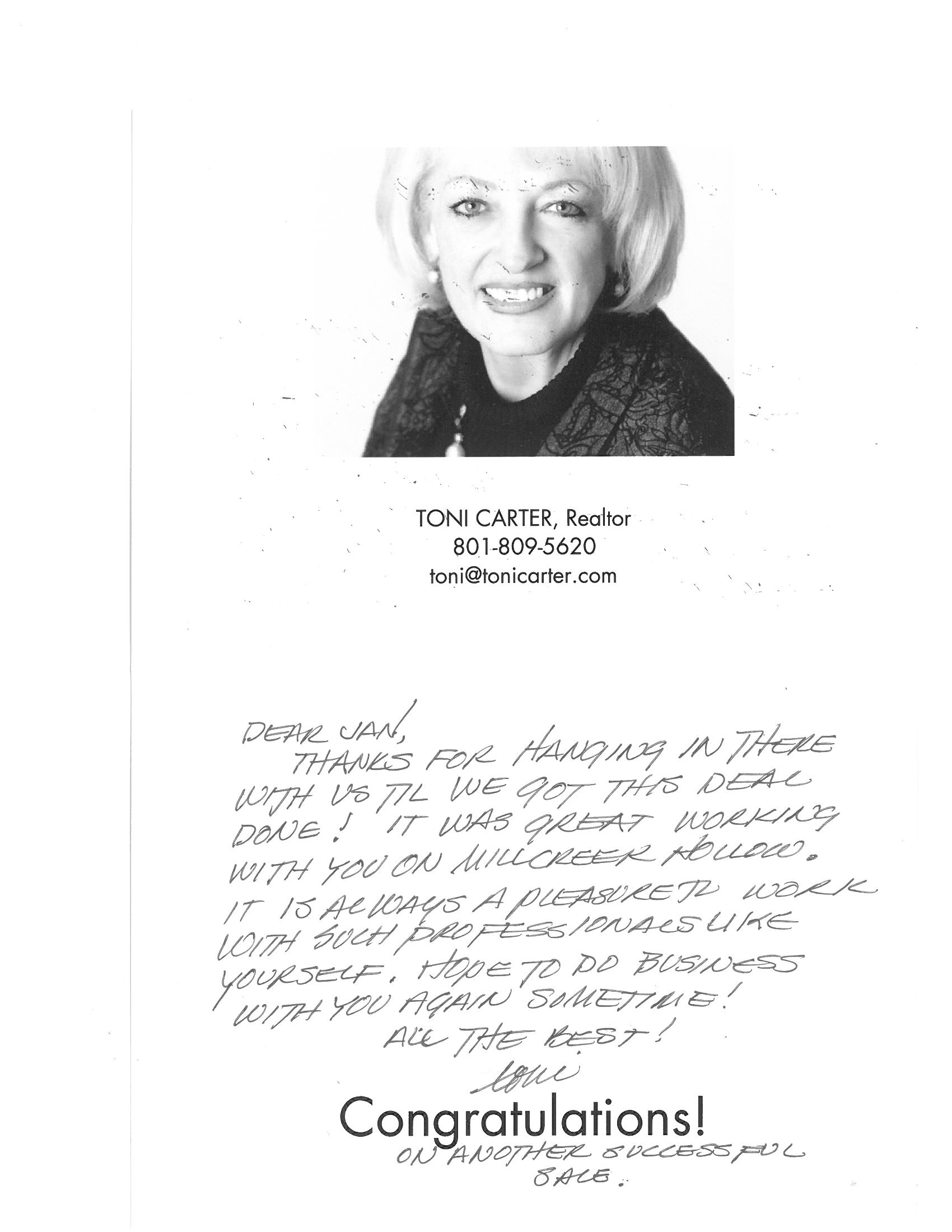 Congratulations on Another Successful Sale!
Dear Jan,

Thanks for hanging in there with us til we got this deal done! It was great working with you on Millcreek Hollow. It is always a pleasure to work with such professionals like yourself. Hope to do business with you again sometime!

All the best!
Toni
Jan & Fred sold our home in two days
Fred and Jan Lowe sold our existing home and helped us to find a new home. They did so within a tight window that allowed us to remain in our old home without being displaced. We were able to stay in place while we found a new home that we now love. Fred and Jan go above and beyond what is expected of real estate agents.

First of all, Jan & Fred sold our home in two days and they obtained a back-up offer that pressured the initial buyer into proceeding quickly and to forego several requested repairs. Although market conditions were largely responsible for the quick sale of our home, Fed and Jan navigated the situation perfectly. They always placed our best interests first. They protected our financial concerns and made it possible for us to stay in our home until we found a new home.

I can best describe Fred and Jan's character by their insistence that we not settle for just any house and that we wait to find our desired home. Their financial interests were secondary to our home search. They are not only professional and expert but wonderful people. They form a great team.

Kent, July 2016
Jan Lowe is a Top-Notch Agent
"Jan Lowe is a top-notch agent. I was buying a home with her as my agent, and I was nothing but pleased with the experience. She's very responsive, works hard to find things for you, and always makes you feel like you're the most important client when you're with her.

My home criteria was a bit on the "difficult to find" side, but she never got frustrated and kept on working to find a home that fit. I trusted her negotiation skills and I wasn't let down once. Jan knows her business and is extremely familiar with the east side of Salt Lake. Highly recommended."

Jan, July 2016
Impressed with Knowledge, Patience, and Enthusiasm
"Jan and Fred were a joy to work with. They went above and beyond to help us find the perfect house and make the purchase happen smoothly. We were consistently impressed with their knowledge, patience, and enthusiasm for our house buying experience.

This is our first home, and it was and incredibly positive process due to working with Jan and Fred!"

Peter & Laura, July 2016
Professional and Caring Throughout Whole Process
"Jan and her staff did an amazing job selling our home. They were professional and caring throughout the whole process. They did the necessary research for our house and comparable houses in the area. Additionally, they walked through our house to see where we could make some updates or adjustments to increase our home value.

Once our house went on the market and posted on MLS, Jan posted the listing on Facebook as well. I then shared the listing on my own Facebook page where a friend told me we were crazy and asking too much for our house in East Millcreek in Salt Lake City. My response to that was that Jan and her staff are extremely knowledgeable of the real estate market in Salt Lake City and did the appropriate research. And I have to say, it was 100% true as we had 12 showings in just 6 days with 2 offers! We knew that Jan knew her business when we had such great success. The buyers wanted a small change made to one of the appliances and neither my husband nor I knew how to make the change, but Fred Lowe did and he showed up ready and willing to help! Both Fred and Jan were always available to answer questions or help with minor repairs before the sale closed.

In addition, this was actually the second time we used Jan to sell a house. We used her to sell our first house in 2011 and had the same positive experience with Jan. Jan and her staff are knowledgeable of the market and are 100% focused on providing their customers a great experience...which they did for us not just once but twice! I highly recommend Jan and Windermere Real Estate!"

Aaron & Raygan, July 2016
Truly Believe Jan Looked Out for Our Best Interests
"Jan's thorough market analysis proved to be exceptionally accurate in the pricing of our home resulting in an additional $20,000 profit beyond what other realtors had estimated.

We appreciated her advice on staging and negotiations involved with the sale. Jan Lowe was efficient in scheduling appointments to show our house while respecting the availability of our time. We truly believe Jan looked out for our best interests throughout this transaction and would wholeheartedly recommend Jan."

Debbie & Geoff May 2015
Very Patient and Knowledgeable
"Jan and Fred Lowe were very patient and knowledgeable about the area we were interested. Jan really assisted with the steps of the purchase and Fred gave us his valued opinion of each home we looked at.

Once we found the right home, Jan was amazing in her dealings with the selling agent that didn't appear to be that motivated, not to mention the seller. I will only suggest Jan and Fred to any friends or family."

Matt & Susy Dec 2015
We Trust Jan and Are So Grateful
"Jan sold our home in East Millcreek, and was a terrific partner. We moved out of state and then put the house on the market - not an ideal situation.

Jan and her team checked on our home regularly, let us know when something needed repairing, sourced reasonably priced professionals for post-inspection fixes, and went above and beyond to make sure our home and yard looked its best for the sale. We trust Jan and are so grateful for all her help."

Elaine, August 2015
Never Felt Pressured
"Jan worked with me over the course of 3 months as I searched Salt Lake City for a new home. She helped me narrow my options and focus on the important aspects which led to a decision I am very happy with.

Throughout the process, I never felt pressured to move forward on a deal and I'm left with the feeling that she understood what I needed as well, if not better, than I did myself. Jan was always professional and a joy to tour homes with.
I will highly recommend her to all of my friends!"

Darren, June 2014
Experienced and Professional
"We met with Jan Lowe in May 2015 to list and sell our home. Jan was an experienced and professional agent who provided all the services I'm used to, just for less. We were also worried that, because Assist 2 Sell charged a flat fee, they may not be incentivized to sell our house for the best price. However, based on market data, Jan was forceful in recommending that we sell our house for a significantly higher price than we initially gauged it to be worth. We ended up listing it at a price higher than we had planned but still less than Jan recommended. Our house sold in less than a day which, to me, was validation of Jan's market analysis and recommendations. We've sold 5 homes, and this was by far the most smooth transaction."

We ended up with ~25K more at closing than we expected.

Quinn & Jenny, July 2015
Very Professional, Positive, and Friendly
"From the start Jan was very professional, positive, and friendly. She came out to our home to discuss listing details and to take the listing photos on our schedule. Jan was very thoughtful and precise when she took the photos of our home. She made us feel very confident with the listing of our home. Jan's office scheduled immediate same day showings the day that we listed our home and called to ask what time worked best for our family. Our home sold on the same day Jan put it up on the MLS.

We told Jan what we wanted in our next home. Jan actively helped us look for homes and had all of the information on each home ready for us to look at before we toured each prospective home. We had specific needs and she paid attention to the details we wanted. Jan was willing to help us evenings and weekends when my husband and I were both available to tour homes.

During the buying process my husband and I brought our two children to tour the homes. Jan was always patient and kind to them. She answered my oldest son's questions and really made him feel involved in the tours. We didn't feel like she was just trying to sell us any house, we felt like she was trying to help us find the perfect home for our family. My husband and I felt like she was truly looking out for our family in the home buying and selling process. When we found the perfect house, Jan got the offer ready immediately, after-hours, and on a weekend. From start to finish we had a wonderful experience with Jan Lowe."

Gordan & Andrea, June 2014
Very Responsive and High Quality of Service
"Jan and Fred have worked with us for several months to help our family find and purchase the perfect home for our needs. Because of their responsiveness and quality of service we were able to purchase a home which started with multiple offers on the first day of listing!

We found the home we eventually purchased on a Saturday afternoon and in a single phone call to Jan we were touring the home 2 hours later. The house had other offers made after just a 1/2 day on the market. Not only did Jan go out of her way to show us the house that afternoon, she wrote and submitted our offer late that same evening. It is only because of Jan Lowe's responsiveness and quality of service did we have the opportunity to purchase our dream home.

Our experience working with Jan and Fred has been absolutely wonderful and we could not have asked for more in a realtor. Jan has been extremely attentive to our needs and questions as we spent months searching for our next home. Their knowledge of the buying process is thorough and proved invaluable as we worked through closing.

We highly recommended Jan Lowe for buying and have let all our family and friends know. She has earned our business and recommend her for life! It is rare to find a quality realtor as responsive and knowledgeable as Jan and Fred have been."

Matt & Kim, April 2014
Most Professional
"Jan is the most professional and truly helpful real estate agent we have ever had the pleasure of working with.



We had the challenge of shopping for a home in Salt Lake City from out of state and Jan took the time to really listen to our needs and concerns. She immediately became our eyes and ears on the ground and we quickly grew to trust her judgment completely.



Throughout the entire process, we felt Jan was our true advocate. Her uncompromising commitment to us as clients and extremely detailed knowledge of the market and neighborhoods were invaluable in the little time we had to house hunt.



Foremost, we have appreciated the way Jan communicates. She is timely, thorough, and so enjoyable to engage with! 


We will absolutely refer friends, family, and associates to Jan and she and her team will have our business when the time comes to move out of our beautiful new home!"

Eric & Christina-Mai, March 2013
I Appreciate Your Diligence
"Dear Jan and Fred, 


Thank you so much for your help in finding my dream house.



Fred appreciate your diligence in showing me a multitude of homes, and never pushing me (a very picky customer) to buy something - in fact your knowledge of the market and of quality and workmanship prevented me from buying a home that would have been inferior to the one I got.



I am so happy with the home I bought and look forward to much happiness there. You and the other staff that I've dealt with in this process have all provided me with excellent service! I am telling, and will continue to tell, everyone I know the benefits of using you guys as a realtor for buying or selling. 


Thank you, thank you, thank you!"

Jolet
We Can't Thank You Enough
"Jan and Fred, We are both really excited about the new house! We can't thank you enough for your patience and persistence with us. It was such a pleasure getting to work with and know the two of you over the last 6 months. We'll have to have you over for a celebratory meal once we move in."

Rob & Rina
You Have Both Been Amazing and Very Patient!
Fred and Jan, I really like our new house and I am looking forward to spending many years there! 

You both have been amazing and very patient with me throughout this whole process!

We began this journey in February when you started showing me houses before mine went on the market. Fred was so patient and so knowledgeable and informative. It took me a long time, and you have more than earned your commission!

You truly are great real estate agents! I'm glad to call you both my friends."
Leanne
Fantastic Service
"Fred and Jan your service has been fantastic, everything I said on Angie's List and more. Confidence is critical in this process. We had (and continue to have) great confidence in you. 



Looking forward to spending more time together above and beyond real estate."

Tom & Marcy
Entire Team was Timely and Professional
"My husband and I put our house on the market with Jan in February of 2013. It was on the market for 2 weeks before we got the offer that we accepted. It was approximately 30 thousand dollars more than another realtor had told us we would be able to get for the house. Our house was in the 200-250K price range. 



Jan gave us great advice on what to do to market the house as well as encouraged us as we went through the selling process. She is also one of the sweetest women I've ever met. Her entire team was timely and professional. We have recommended her to any of our friends who might even be considering selling a house. Overall, she got us $7,000 when we were initially told we would need to bring $27,000 to closing from another realtor. We could not be happier!"

Bethany & Peter, April 2013
We Would Recommend Jan Lowe to Anyone!!
"We had a wonderful experience working with Jan Lowe!

Jan assisted us last spring with the sale of our house. She helped us to sell the house quickly (we closed only about five weeks from the day the "for sale" sign went up in front of our house!) and communicated with us along every step in the process.


When we were ready to look for our new house, she took care of arranging countless showings of houses for sale, based on our locations of interest, price, and our personal taste and expectations for the new house. 


We were very picky and we had high expectations as we sought out a new place to live. But she really took the time to know our family and find the perfect fit for us. Although Jan was our primary Agent, when she was unavailable another Agent stepped in seamlessly to assist us with a showing or whatever needed to be done. All staff were extremely professional and we only had positive experiences with everyone that we worked with. 


In the end, it was a house Jan found for us (one that we would not have found on our own), that we purchased for our new home. She worked very hard for us and we are extremely happy with the results of all of her hard work!!

We would recommend Jan Lowe to anyone!!!"
Ian & Anita, March 2013
Very Pleased with Jan and the Service We Received
"Jan was a joy to work with. We were experiencing a lot of stress in making the decision to move. Jan was understanding and let us come to the decision on our own. She provided us with the numbers, a look at available homes and addressed any other concerns that we had.


We did decide to move and Jan and her staff were always available to answer questions or to meet us to provide "one more look" at homes so that we were sure. We were provided with information about the neighborhoods and resources.


I am very pleased with Jan and the service we received and feel like a friend was there to walk us through the stressful process."

Sandy & Susan, October 2012
We Couldn't Be More Pleased
"We contacted Jan in April regarding selling our home. We were exploring several options at the time (keep it as a rental; put it up for sale with renters still in it; sell now; sell later, etc.), and the assistance and expertise that Jan gave us was critical in providing us the best data to make our decision. In comparison with the don't ask questions, trust us, we know what we're doing' attitude that I have received from other realtors that I have worked with in the past, Jan's responses were always documented and thorough, and gave me the information I needed to come to the right conclusion for our family. 


Jan gave great advice on low-cost/high impact things we could do for our home to get it to show better. We followed her advice, and boy, did it work. We listed our house on Friday, had 3 showings on Saturday, an offer on Monday morning, and a signed offer Monday night, and had closed less than 3 weeks later. While I think we got lucky with the right buyer finding just what they wanted in our house, I also don't underestimate the value of the knowledge, expertise, and service of Jan in guiding us through the process and ensuring that everything flowed smoothly. We couldn't be more pleased.


Like I said, when I have real estate needs in the future, Jan Lowe will be the first ones I call! "
Brent & Maren, May 2012
Jan Met or Exceeded My Expectations on All Counts
"With a long background in the real estate industry, being a broker and home builder for many years, I am not easy to please by real estate professionals. Let's just say I am quite demanding.



I chose to list and sell my home through Jan Lowe, and I can tell you she met or exceeded my expectations on all counts. She is a straight shooter. She stays on top of the ever-important details.
If you are shopping for a real estate agent to sell your home...stop...Jan is the one."

Brad, November 2012
Couldn't Have Asked for a Better Realtor
"Jan, we couldn't have asked for a better realtor when selling our home. Your knowledge of the area, your honesty and your responsiveness put us at ease during the entire process. We were so glad you were there to support and educate us every step of the way."

Andrea & Sean, March 2012
Professional, Knowledgeable, Timely Team!
We have bought and sold a number of houses, and Jan Lowe provided all the same services at the same quality as we have experience before. 



Jan did extensive research to provide comps and guided us in determining our listing price.



We were out of town for a good portion of the time our house was on the market, and Jan Lowe handled everything. We dealt with a number of their personnel and every single one was professional, knowledgeable about our property, and responded in a timely fashion. 



When we received an offer, Jan was very candid about assessing the offer and offering guidance. At our request they arranged for us to close ahead of the buyers and provided a Power of Attorney for us to use at closing. It was a great experience start to finish!


~ Steve & Yvette, August 2012
Calm but Very Informed, Professional Attitude
"Jan assisted me in the sale of my house, and her expert knowledge of the local real estate market was invaluable to me. Her experience helped me to sell at the right time and the right price. I had a buyer within 3 weeks of listing, and closed without complications

I greatly appreciated her calm, but very informed, professional attitude. She was very quick to respond to my questions and concerns, and pleasant to work with. 

I would heartily recommend her services to anyone buying or selling a house within the Salt Lake Valley."

David, April 2012
Always Got Back to Us Quickly and Kept Us Updated
"Dear Jan, you and your staff were wonderful to work with. Between our family issues, our jobs, and being out of state I know it would be difficult for us to communicate, but we always felt we could contact you at any time to ask any questions we had regarding the selling process.



You always got back to us quickly and kept us updated with new information or status updates as they happened, which we really appreciated. I would recommend your office to anyone selling or buying a house in the Salt Lake Valley."

Amanda & Michael, March 2012
Outstanding and Consummate Professionals
"Fred and Jan you were wonderful to work with. Thank you so much for being our realtors, but more importantly for being our friends. 

From the first day I walked into your office to the many visits to our home and the many phone calls for advice and encouragement, you have been outstanding and consummate professionals.

We love Jan's positive upbeat personality and Fred's knowledge of the real estate market is second to none.

You and your staff made sure our house was well marketed, and we were pleased to get an average of 2-3 showings per week. We have a unique house with only a master bedroom on the main floor, and it took the right buyer.

When it came time for negotiation, Jan became a stronger advocate for us. Can you believe we had 4 offers in one day, driving up the price slightly!

Jan guided us through the entire process, educating us to options and letting us make choices. I offer my strongest recommendation for Jan, Fred, and your staff. Thank you for your role in making our dream come true.

Friends always,"

JB & RaNae, March 2012
Ever Responsive with Great Attention to Detail
"Dear Jan, Thank you for the nice note and thank you especially for the great service you gave us (siblings and myself) in selling our parent's home at 2152 S 2000 E. I have advised each of them of your help with the transaction. 

You were ever responsive, gave great attention to detail, and did all the necessary footwork while continually keeping me advised. This lifted much of the burden I felt I was under as it relates to this transaction.

You can use my name and telephone number as a referral to future home sellers; no problem, they can call and talk with me if they wish."

~ Dick & Kathy, May 2011
Continually Kept in Touch with Us
"My wife and I decided it was time to make a change and sale our house. We interviewed several agents including Jan. Unfortunately we went with somebody else. Our house sat on the market for a long time with very little action. We decided to take our house off the market and maybe re-list it in about 6 months. When that time came we interviewed a few more agents.



We decided after several interviews to contact Jan again. We wanted to make contact again because we both were impressed the first time we met her. It was almost a year later when we contacted Jan and she still remembered our house. Jan continually kept in touch with us during the entire process of selling our house. We thought that Jan did an excellent job in marketing our house as well.


Both Fred and Jan showed us homes and helped us in keeping things in perspective. They would devote their time to us and were very patient while looking at homes across the valley. Fred was at our closing to make sure that everything went smooth. We have used a couple of other agents in the past but none have ever left us impressed like Fred and Jan did. We hope they will still be around if we ever decide to sell again. Don't hesitate to list or buy with Jan and Fred you won't be disappointed."

~ Miles & Jessica, May 2011
I'm So Glad We Found You!
"Jan, Thanks so much for being an awesome realtor and getting our house sold in the last hour! I hope you have continued success. 



We'd called thinking you worked with for-sale-by-owners and could maybe sell us some signs! What we got was an awesome realtor who helped us understand the process and GOT OUR HOME SOLD. I'm so glad we found you!"

Ronda & Bill, Nov 2011

Cannot Thank You Enough!
"Thank you so much for all your hard work on our behalf. We had such a bad experience with our first realtor and you and your staff have been so helpful and wonderful to work with. 

Our first realtor couldn't come up with any ideas to help us sell our home. I don't think she had ever thought about how to sell a home in a down market.

Jan knew exactly what it would take to get our home sold and WHY. Her understanding of the dynamics of the current real estate market was the difference between us selling our home and another 6 months of total frustration.

I cannot thank you enough! I am so glad we found you guys."

~ Mike and Michelle, January 2008
Going the Extra Mile
"Jan did an amazing job for us from start to finish. When we first talked to her about listing our home, she gave us honest but tactful input on what we needed to do to get it into shape to sell. She suggested some improvements such as new switch plates, light fixtures, and paint that gave our older home a more updated look without spending a lot of money. 


Jan was extremely proactive in marketing our home and providing feedback. She had the lawn sign and fact sheets up and listed our home on the MLS the same day we signed the listing agreement. She called later in the day to say she was showing another house in our neighborhood that evening, and would it be all right to show the people our home as well. She kept us informed daily either by email or a phone call about when the house was being shown and what the comments were.

We were out of town when Jan called to tell us we had an offer. Jan walked us through the process of making a counter offer long distance, which the buyers accepted. Jan kept us informed as the buyers went through their loan application process. She was often immediately available when we'd call her with questions, and if not, she'd get back to us in a very timely manner--usually in less than an hour. We really appreciated the fact that she did not make or take phone calls when she was with us--we had her undivided attention.

Our closing was delayed because of the Christmas holidays and some glitches in the buyers' lending process; we moved out of state to our new home, and had to do the closing long distance as well. Again, Jan kept us informed, and coordinated with the lender, the title company in Salt Lake, and the title company in Arizona where we are now living to make sure the documents arrived, were signed, and were sent back in a timely manner. 


We were on the road to our new home in Arizona, when Jan called to tell us that a neighbor had called her that there was water running down our driveway. Jan was on her way to check it out (4 p.m. on a Sunday afternoon!), discovered that a pipe had frozen and burst in the garage. She turned off the water, and was there the next morning to meet the plumber. 


Jan provide a terrific level of service! Going the extra mile is just standard procedure for Jan.

We've bought and sold several houses over the years, and have NEVER had this kind of service!"

~ Steve and Sandy, January 2011

Invaluable Help and Hard Work
"Dear Jan, I can't say enough about your invaluable help and hard work in marketing and selling our condominium. 



Thanks so, so much! You are a consummate professional and a wonderful confidant."

Sue, October 2010
Highest Level of Real Estate Expertise and Service!
"I wanted to say thanks to you for helping me sell my home. You were professional and pleasurable to work with.



I really enjoyed Jan Lowe. I've been singing the praises of the system to friends and relatives and will use Jan Lowe as my Realtor on my next real estate transaction. 

Thanks for providing the highest level of real-estate expertise and service!"

~ Juliette
The Smartest Decision We Could Have Made
"After a six month listing and only four showings of our home through a major real estate firm, we took our home off of the market thinking the economy was the entire problem. Fortunately, a friend recommended we give Jan and Fred Lowe a call. We did, and it was the smartest decision we could have made. 



After hearing their market analysis, pricing strategy, we listed our home with them, thinking, "What have we got to lose?" As it turned out...we had nothing to lose, but everything to gain! In four weeks our home was not only sold, but sold for our full asking price! 



The effort put forth, the responsiveness to our questions and concerns, and the professionalism of these real estate agents was amazing. In addition, we found the perfect condominium to buy, and with their help and expertise made a terrific deal on the purchase of our new home. Jan & Fred made the entire experience a win-win for all involved. We cannot overstate our complete satisfaction with Jan & Fred."

Dave & Barbara, January 2010

We Are Now Your Clients for Life
Jan, This has been our third transaction using your services, and we just couldn't be happier. There were multiple bids for the home we wanted and your negotiating skill helped us to be the winners! We would have never found another home like this.

Then we were under the gun to sell our home so we wouldn't be facing two mortgage payments. You helped us come up with a strategy so it would sell quickly, and your advice in preparing for the sale and staging our home was extremely valuable.

We've always thought we'd be better off without a realtor. We are now your clients for life."

C & T, November 2007